5 Best Ferret Litters & Litter Pans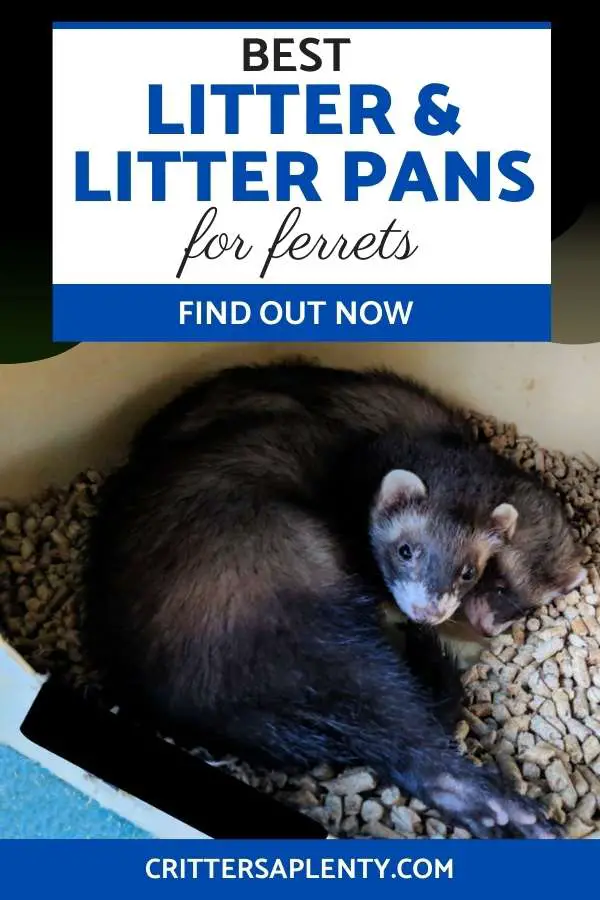 If you are litter training your ferrets, you might have noticed by now that not all litters are made equal. Choosing the right litter and litter pan will set you up for success in potty training. But with so many options, how do you know what to look for? Today we will talk about what to look for in the five best ferret litters and litter pans, plus we will give you our top recommendations for the two.
What To Look For In Ferret Litter
Our litter recommendations will only have the finest ingredients and best functions. But what qualifications does litter have to pass to get on our list? Here are a few below.
Odor Control
The first thing that the best ferret litter should have is odor control. We all know that ferrets are not exactly known for smelling like a field of flowers, but using a litter with odor control should help. You don't want something that is strongly scented to mask smells. Instead, it would help if you had a natural litter that is odor neutralizing.
Dust-Free
Ferrets are known for their sensitive respiratory systems. Dusty litter can agitate your ferret's nasal passages and cause sneezing. In extreme cases, they can cause upper respiratory infections as well.
Safe
No matter what type of litter you use, it does need to be safe. There are ingredients like silica, clay, and pine shavings that are not safe to use around ferrets.
Easy To Clean
And of course, your litter should be easy to clean. What is the point of having a litter that is harder to clean? Your litter should be easy to dump and spot cleaned.
Cheap
Finally, your ferret litter should be cheap. You will be changing this all the time and adding more as you spot clean. So less expensive litters that still meet the same standards are better for your wallet.
5 Best Ferret Litters
Now that you know what we look for in the best litter, we can give you some recommendations. Below we have the five best ferret litters and the reasons why we love it.
Yesterday's News
Purina Yesterday's News Non Clumping Paper Cat Litter, Unscented Low Tracking Cat Litter - 30 lb. Bag
One (1) 30 lb. Bag - Purina Yesterday's News Non Clumping Paper Cat Litter, Unscented Low Tracking Cat Litter
Absorbs 3x the moisture by volume than traditional clay-based litter. Delivers effective odor control
No added fragrance. number 1 veterinarian-recommended eco-friendly cat litter
Designed for low-tracking with no small particles. Soft paper pellets offer a non-toxic litter option
99.9 percent dust-free formula. Works great for kittens as well as adult cats
Yesterday's News is a recycled paper bedding that is marketed for cats. But it is also used for a variety of small animals. You will love the odor-controlling qualities while also being cheap.
Pros:
Eco friendly and made of recycled materials
Keeps odors under control
Highly absorbent that is easy to scoop
Dust-free
And cheap
Cons:
Needs to be replaced often
Feline Pine
No products found.
If you love the smell of wood, Feline Pine is the right choice for you. The unscented formula masks the scent of your ferret's urine naturally. And the pine pellets are super absorbent. And while pine shavings are dusty, the pellets are virtually dust-free. All of these aspects make Feline Pine one of the best ferret litter for odor control.
Pros:
Virtually dust-free
Absorbent and easy to clean
Odor-controlling
Can be bought in bulk
Cheap
Cons:
Some ferrets are sensitive to the smell
Marshall Ferret Litter
These paper pellets by Marshall are extremely useful. They have even less dust in them than paper litter designed for cats. And since they are made from 100% recycled paper, you can flush it safely. Marshall Ferret Litter is easy to clean and odor-controlling. That's why this brand has made our list.
Pros:
The least amount of dust than any brand
Odor control
Made specifically for ferrets
Made from recycled paper
Can be flushed
Cons:
More expensive than other brands
Critter Litter
Sale
Critter Litter is a safe clay litter than many small pet owners love. This type of litter is the closest to cat litter that you can find. It absorbs all urine on contact and scoops quickly. And these small bags have virtually no dust in them, so they are safe for all animals.
Pros:
Natural odor-controlling
Clumps well
Safe for ferrets
Easy to use
And easy to clean
Cons:
Scatters easily
Can get expensive
Equine Pellets
Equine pellets are wood pellets made for horses and mule bedding. These pellets come in large bags and work just as well as any other pellet litter. And the great thing is that you can pick them up at any farm feed store in the US. Equine pellets can be a cheaper alternative to pelleted cat litter.
Pros:
Super cheap
Natural smelling odor control
Can be found in bulk
Larger bags than cat litter
Easy to clean
Cons:
You have to find storage for such large bags
What To Look For In Ferret Litter Boxes
Now that we know what type of litter to look for, we need to know what to put it in. Finding a litter box can be tricky. Some ferrets have a preference for one box over another. And some ferrets think that the litter pan is the best place to play. So what do we look for in the best ferret litter pan?
High Back
Ferrets are known to miss the litter pan at times. Ferrets don't mean to miss, but since they back up into the box, they sometimes over-judge. The best ferret litter boxes have tall sides to keep everything in as much as possible. High sides are not a guarantee that they won't spill litter while playing, though.
Spacious
An excellent box will also be large enough for your ferret to use comfortably. Small boxes will be uncomfortable, and they can cause more messes than necessary. Your ferret should be able to back themselves into the box and not be crowded in.
Secure To Sides
We all know that ferrets can get rambunctious when playing. They can also make a toy out of just about anything. For this reason, you want to get a litter box that fastens to the side of the cage. If you found your perfect box and it doesn't come with clips, you can always DIY it.
Simply drill a few holes in the sides of the pan and attach it to the cage with zip ties and a D-ring keychain clip or shower curtain hooks.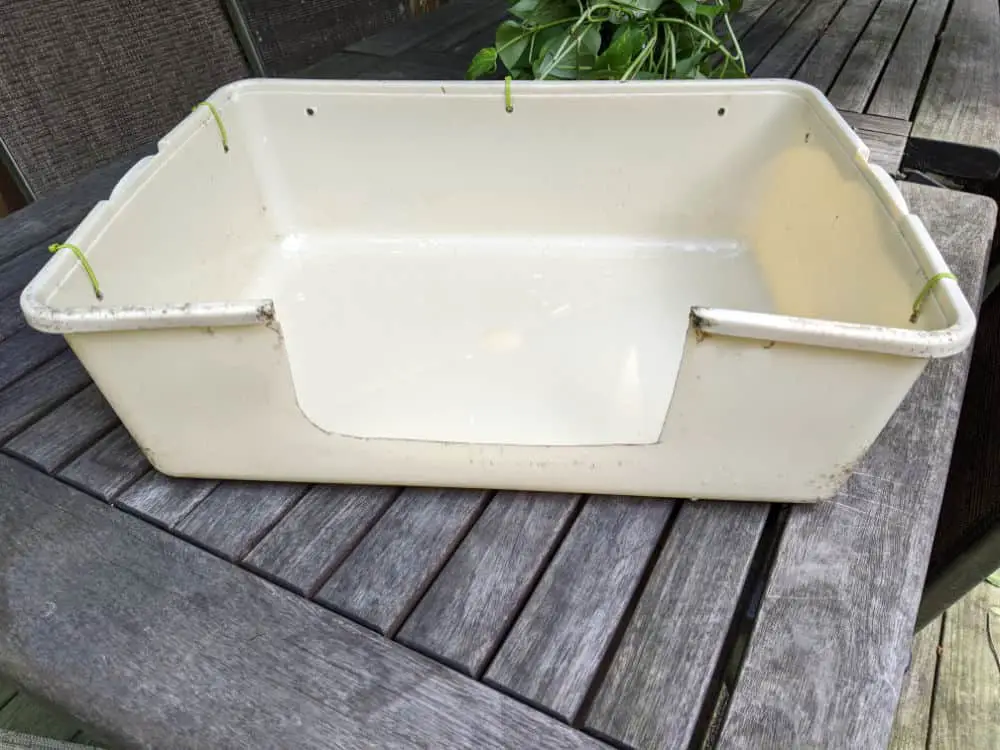 Easy Access
Your ferret's litter box should also have easy access. A lower side on the front of the pan will allow easy access and prevent accidents. It will also help as your ferret gets older to get in without hurting themselves.
Quick Cleaning
And finally, a litter box should make your job easier, not harder. A simple litter box that can easily be dumped and isn't complicated. You will have to do a little scrubbing now and then for odor control. But anything too complicated will make litter training difficult and not worth the time.
5 Best Ferret Litter Box
Now that you know our standards for the best litter box, we can look at the top choices. There are, of course, many other litter pans out there that are amazing. But these boxes have high success rates and get the job done, not to mention that they are ferret approved.
Marshall Lock-On Ferret Litter Pan
Sale
The most popular litter box is the Marshall Lock-On Ferret Litter Pan. This pan has it all. It locks on securely to the side of the pan and is large enough for any ferret.
Pros:
Locks to cage
Large enough for a ferret
Tall sides
Easy to use
Most ferrets take to it easily
Cons:
The lock can be too flimsy for rambunctious ferrets
Kaytee Hi-Corner Litter Pan
The Kaytee Hi-Corner is another favorite among small animal lovers. This corner cage is perfect for small spaces and leaves enough room for your ferrets to romp around. And since it has tall sides, it prevents accidents.
Pros:
Easy to use
Hight backing
Low front
Best for small cages
Can attach a secure lock to it
Cons:
Ferrets do grow out of them
Cat Litter Box
If you are looking for larger litter pans, any cat litter box will do. You can use these in the cage and around the home when free-roaming. You can get covered or high backed litter boxes that work lovely. Or you can choose a smaller, cheaper option for kittens. Just about any cat litter box is suitable for ferrets. Some of our favorite cat boxes are the Nature's Miracle High-Sided Litter Box and the Nature's Miracle Advanced High Sided Corner Litter Box.
Pros:
Lots of variety
Easy to get into
Can attach locks on sides
Some boxes are cheap
Great for use around the house
Cons:
Some boxes are too large for a cage
Stackable Storage Bins
IRIS Large Bin, 8 Pack, Black
8 pack set
Modular stacking bins for storing small items throughout the house or garage
Dimensions: 13.00"L x 6.00"W x 5.00"H
Stackable with Large and Medium bins
Bins nest to maximize storage space
Ferrets are very long slinkies, and in most cases, they can fit anywhere. We love the Iris USA Large Storage Bins because they are perfect for ferrets. The long containers make it a comfortable fit. And it can also save space inside the cage.
Pros:
Cheaper option for multiple litter boxes
Large enough for most ferrets
Easy to clean plastic
Fits inside the cage to maximize space
Can be fitted with locking hooks
Cons:
Some ferrets don't prefer them
Ware Manufacturing Plastic Scatterless Lock-N-Litter
And last on our list of the best ferret litter pans is the Scatterless Lock-N-Litter. This pan makes it on our list because of its larger size and the protective guards. If your ferret loves to play in the litter box, this pan is perfect for you. You will never again have to scoop all the unused litter back into the box. And since this pan has a lock built-in to keep it in place, it makes for a ferret owner's dream.
Pros:
Larger than most corner litters
Keeps ferret out of the litter
Has built-in locks
Makes cleaning easier
Takes up less space than a rectangular pan
Cons:
Some ferrets are picky about the bars
Litter Training Can Be Hard…
But with these top 5 best ferret litters & litter pans, it can be so much easier. Each of these products is hand-picked to make you and your ferret more comfortable with potty training. And with so many choices to choose from, it's nice to have the best options already researched for you.