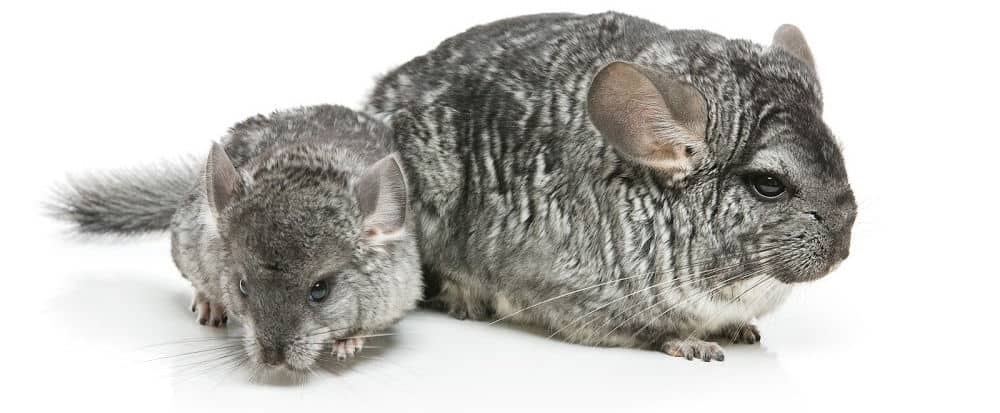 Are you a proud new Chinchilla owner? You've come to the right place to find the best chinchilla products and supplies for your newest little family member. Here we share some of our favorite products that we love and use with our own chinchillas.
Find out what chinchilla products and supplies we recommend–food, cages, chewies, toys, grooming products, and more to help you pamper your pet.
---
Best Chinchilla Cages
The cage for your new furry little friend is probably going to be the most significant purchase you will make, so getting the right cage the first time is important.
Bestseller No. 1
MidWest Homes for Pets Deluxe Critter Nation Double Unit Small Animal Cage (Model 162)
Includes 2 pans, 2 adjustable shelves, 3 plastic ramps with covers & easily maneuverable stand with 4 locking wheel casters
Full-width double doors on critter nation small animal cage and removable shelf provide maximum accessibility for easy cleaning & feeding
Critter Nation's wide expanse shelves & full width leak proof pans provide maximized play area & prevent dangerous falls
Great for Rats, Chinchillas, Dagus, Ferrets, tubing (corners) 0.6 inches square & 1/2 " horizontal wire spacing allow pets to fulfill their instinct to climb & explore in a secure environment
Dimensions: 36" L x 24" W x 63" H
Bestseller No. 2
GUTINNEEN Ferret Cage Rat Cage 5 Levels Small Animal Cage for Chinchilla, Hedgehogs, Squirrel, Chameleon, Lizard, Gerbils
【Multi Levels for Fun】 5 levels critter nation cage for energetic climbing pets provides large space for ferrets, chinchillas, rats, mice, gerbils, hedgehogs, lizards, chameleons, iguanas, pet minks, and other small animals to live and have fun.
【Safe and Stable】Ferret cage with 1/2 inch metal wire spacing, solid wood platforms, and non-slip ladders, no need to worry about small animals' feet being caught by wide gaps. The anti-predator door lock ensures 100% safety with pets.
【2 Large Openable Doors】Full-width front door and the top open window of the rat cage provide maximum accessibility, allowing you to interact easily with the hedgehog. While super convenient for you to clean the habitat.
【Deeper Plastic Tray】The deepened leak-proof drawer will never leak or go moldy, and super easy to pull out back and forth. A generous lip prevents urine and water from spilling over the edges, having no trouble using the squirrel cage indoor.
【Special Gift】 The Chinchilla cage comes with a large hideout for the lizard to hide and play. Chewing toys will eliminate boring time for animals. Food bowls make feeding easy. Overall Size:23.6"L x 15.7"W x 55.1"H.
Sale
Bestseller No. 3
Yaheetech Rolling 2-Story Ferret Cage Small Animal Cage for Chinchilla Adult Rats Metal Critter Nation Cage w/ 2 Removable Ramps/Platforms Black
【REMOVABLE RAMPS & PLATFORMS】Thanks to the removable ramps and platforms, you can change the cage inner configuration to build a customized living space for your pets. Fabric covers of the corrugated ramps and platforms give added protection for pets' feet.
【STURDY METAL CONSTRUCTION】Crafted out of strong metal with safe hammered paint finish, the small animal cage boasts high strength and rust-resistance, providing a safe and strong living environment for your pets.
【SAFETY COMES FIRST】The two full-width swing doors are all secured by locks, making sure even your smartest little one can't open. The extra openings on the cage top and the middle mesh panel for convenient and safe accessing, feeding and cleaning.
【MADE FOR SMALL ANIMALS】With the 7/8" bar spacing, we made this cage comfortable and safe for small creatures like adult rats, ferrets, chinchillas, hedgehogs and even kittens to live, hang out and play.
【ROLLING FOR MORE CONVENIENCE】The ferret cage sits on a rolling stand for easy maneuverability. The 4-wheel stand also provides an extra storage shelf for keeping pet accessory handy and neat.
Cage Accessory Kit
Sale
Ferret Nation & Critter Nation Accessories Kit 2
Ferret Nation accessory kit 2 | Ferret Nation or critter Nation kit for small animals includes 2 designer shelf covers, 3 ramp covers, top pan cover, bottom pan cover | Cage not included
Small animal kits compatible with all Ferret Nation and critter Nation habitats (models 181, 182, 183, 161, 162, 163) | pet cage is not included
Comfortable and attractive Ferret accessories in a polyester microsuede material in purple and teal colors
Easy maintenance Small animal accessories | shelf, pan & ramp covers are easy to install or remove from Ferret cage | All covers are machine washable and dryer friendly
Best Chinchilla Food
Sale
Oxbow Essentials Chinchilla Food - All Natural Chinchilla Food - 3 lb.
ESSENTIAL INGREDIENTS FOR A HEALTHY, ACTIVE LIFESTYLE: Made with high fiber, protein-rich Oxbow Alfalfa for energy and to support healthy digestion in chinchillas of all ages
SUPPORTS IMMUNE SYSTEM HEALTH: Made with antioxidants & prebiotics to support the immune system health of your chinchilla
PERFECT FOR PICKY EATERS: Uniform pellets prevent selective feeding
FORTIFIED FOOD: Fortified with vitamins and minerals for optimum health
VETERINARIAN RECOMMENDED: Formulated with the guidance of top veterinarians and nutritionists
Kaytee Timothy Hay Complete Chinchilla Food, 3-Lb Bag
Made with timothy hay to support a natural digestive process for chinchillas
Kaytee is a Veterinarian Recommended Brand
Developed by an animal nutrition expert to ensure proper nutrition
Contains probiotics and prebiotics to aid in digestive health
Contains added vitamins, minerals, flowers and herbs
Chinchilla Dust for Dust Baths
Sale
Bestseller No. 1
Bestseller No. 2
Oxbow POOF! Chinchilla Dust, pack of 2
Blue Cloud Dust for Chinchilla Bath
dust baths are also essential to your chinchilla's physical and mental wellbeing
Blue Cloud Chinchilla dust is 100% Blue Cloud Dust with no additives and encourage natural grooming behaviors
Bestseller No. 3
Oxbow Poof! Chinchilla Dust ( Pack of 2 )
Blue Cloud Dust for Chinchilla Bath
dust baths are also essential to your chinchilla's physical and mental wellbeing
Blue Cloud Chinchilla dust is 100% Blue Cloud Dust with no additives and encourage natural grooming behaviors
Chinchilla Toys & Chewies
Sale
Bestseller No. 1
Bojafa 250g Apple Sticks Small Animals Molar Wood Treats Toys for Rabbits Chinchillas Guinea Pig Hamster Gerbil Parrot Bunny and Small Animals Chew Stick Toys Treats (250g, About 50 Pcs)
100% Natural Apple Branches Pet Food, Organically Grown, NO Pesticides.
Package Weight about 8.8 oz, 50--70 pcs. Each Chew Stick Up to 5 Inches Long
Suitable for Guinea Pigs, Chinchilla, Squirrel, Rabbits, Parrot, hamster, degus, gerbil and other rodent species.
Great for playing and nibbling,Reusable, durable, practical, good elasticity, widely recommended for healthy teeth.
No damp mildew, harmless to the health of small pets, can be stored for a long time.
Bestseller No. 2
CHUHUAYUAN Natural Apple Sticks, 300g Treats Food for Small Animals, Chew Toys for Chinchilla Guinea Pigs Rabbit Squirrel Hamster Bunny
【BIG CAPACITY】Far more than other apple sticks. Unlike 100g, 300g(10.5 oz) is your ideal choice.Suitable for small animals, Hamster, dwarf rabbit,bunny, chinchilla, guinea pig, squirrel and so on. It is not only chew toys but also a delicious food and treats for your pets
【Natural and Health】These apple sticks come from organic apple orchard, No Pesticides.Moderate soft and hard, it is a best choice for your pet teeth health.
【Carefully Selected】We selected these apple sticks carefully to ensure they are not too big or too small.We use kraft paper for packaging to ensure that the apple sticks are dry and hygienic.
【Designed for Small Animal】Suitable for Guinea Pigs, Chinchilla, Squirrel, Rabbits, Parrot, hamster, degus, gerbil and other rodent species.
【Fun Toys】These apple sticks can not only grind teeth, but also a recreational toy for your pet. If you don't have much time to accompany your pet, these apple sticks are your best choice.
Bestseller No. 3
500g Organic Apple Sticks Wood Tree Branches Pet Snacks Chew Toys Branch for Guinea Pigs Chinchilla Squirrel Rabbits Hamster Small Animals
Package included: About 500g
Special Care: Natural apple tree branches to ensure the healthy growth of small pet teeth, perfect for Chinchillas, hamsters, rabbits, guinea pigs, gerbils, bird and other furry animal
Material: The bite wood is 100% natural apple branches, squirrel, rabbit, chinchillas, guinea pigs, hamsters and other small pet molar activities, to ensure small pet teeth healthy growth can also be let themselves in a cage bored biting looking for a bit of fun
Ideal for healthy teeth and food, Promise Organic management and pollution free
We promise all of them are 100% healthy, no damp mildew, harmless to the health of small pets, keep in dry
Bestseller No. 1
10 Pack Small Animal Combo Apple Wood Activity Toys, Hamsters Chew Toys, Rat Chinchilla Snacks Toys for Pets Organic Natural Accessories
10 Pack: Include Small bell roller, Dumbbell, Unicycle, Water grass ball, Rattan ball, molar block with rope, Apple branch, Molar String, Pine ball,Programming ring.
Natural Material: The cute animal toys made of natural materials, such as apple wood,water grass, wood vine, great for playing, can be chewed safely.
Enrich the lives of pets:With exquisite and cute shape gift for small pets play fun grind the teeth, interaction, not alone. Helps Small Animals Combat Boredom, Anxiety and Stress.
Pet Grow: Durable Molar Toys help For Your Pet Grow Healthily. Because Long Teeth Will Affect Your Pet Eat Things And Health.
Application:For hamster, guinea pigs, chinchilla, squirrel, rabbits, parrot, gerbil and other small rodent species.
Bestseller No. 2
HWONMTE 12 Pack Guinea Pig Toys Set Natural Wooden Rabbit Bunny Rat Chinchillas Chew Toys Hamster Accessories for Small Animal Chewing and Teeth Care
HAMSTER TOYS PACKAGE CONTAIN:12 Pack guinea pig toys, climbing ladder,hollow tree trunk, seesaw, bell roller,watermelon balls, dumbbell, unicycle, rattan ball, pine nuts,apple tree branch,squared molar block with rope, Care Molar Toy
HAMSTER CHEW TOYS: The rabbit Toys are made of origin wood, strictly control production process,hamster toys selected first-class wood, natural sun drying, strict control of dehydration rate
DURABLE SMALL ANIMAL TOYS:Hamster Accessories with exquisite and beautiful shape, after special anti-corrosion technology, not only are eco-friendly toys, but also are bite-resistant molar tools, ensure the healthy growth of small pet teeth, wholeheartedly care for your favorite
APPLICABLE: Rabbits, Guinea Pigs, Chinchillas, Hamsters, Gerbils, Rats, Birds, Rodents and other small pets. Entertainment, decompression and grinding teeth for small pets. Gives your small rodent the prefect opportunity to play and work out
CUSTOMER SERVICE: Fully refund with no hassle if unsatisfied in the first 30 days after you received the item. Life-time customer service. Any problem please do not hesitate to contact us with your order number
Bestseller No. 3
EBaokuup 16 PCS Bunny Chew Toys for Teeth, Rabbit Hamster Chew Toys for Dental Health, 100% Natural Apple Wood Grass Ball String Loofah Carrot Toys for Chinchillas, Guinea Pigs, Hamsters
Super Value Pack: Our bunny chew toys set includes 1 Apple Wood Molar String, 1 Grass Ball Molar String, 4 Rattan Balls, 6 Loofah Toys, 1 Loofah Carrot, 1 Woven Carrot, 2 Woven Corn, enough quantity for your little pet to play and chew.
Safe & Natural Material: The rabbit chew toys set includes Apple Tree Wood Sticks, Timothy Hay Balls, Rattan Balls, Woven Carrot and Corn, Loofah Carrot Toys. All materials are handmade with natural wood scent, non-toxic and harmless, safe for your pets to chew.
Improve Dental Health: The hamster chew toys are perfect for teeth grinding for rodents. Thses toys can provide full range of protection, good for digestion and relieving intestinal inflammations and mild pain.
Multi-Fun: The Loofah Carrot with unique shape can easily attract your small pets to play with. The natural apple wood grass ball string are handmade, eco-friendly and can be hang on the cage with small hook. These bunny chew toys can prevent your pets chewing their cages or furnitures and keep them healthy and active. You little pets will love these funny toys!
Wide Use: These bunny chew toys fit for bunny, chinchillas, hamsters, guinea pigs, squirrel, rabbits, parrot, gerbil and other small rodent, providing more fun for your animals.