The biggest purchase for a new ferret owner is the cage. Your ferret will spend a great deal of time in their cage, so you want to get the best. The wrong cage could make caring for your ferret difficult. Some cages aren't adequately built and will make your ferret unhappy. But, what makes a ferret cage the best? Today we are going to look at all your options and answer any questions that you have about the best ferret cages of 2023.
What To Look For?
When looking for the best ferret cages, there are a few things that you should look for to make sure that it is functional. These are general things to look at. You might find that your ferret has some silly quirks that need some adjusting to make the perfect cage for them. But a cage is where your ferret will eat, sleep, and spend most of his day while you are away. So why not make it inviting and comfortable for them?
Space
The minimum cage size for one ferret should be 2 feet wide by 3 feet tall and 2 feet deep. This is the bare minimum size to give your ferret a little room to stretch, but they do not do well in cages this small if caged for prolonged amounts of time. For every ferret that you add to your mix, you should add at least two square feet of space. So your ideal cage should fit everyone comfortably. If you are unsure if you will be getting any more ferrets, you might want to look at cages that can be modified. Some cages have extra tiers that you can stack on top to increase the space. Other cages can be fastened side by side to make an extra-long cage. Cages like these have so many possibilities that they are worth the extra price.
Multi-level
The next thing on your list should be that your cage has multi-levels. Multi-level cages are the best for ferrets because they love to climb and run around. A multi-level cage will also provide your ferret with more floor space. Ideally, you want to have at least two levels, but the more, the merrier.
Solid Flooring
Your ideal cage should have solid flooring. A ferret's feet are small and delicate and can easily get caught in wire bottoms. If you are not careful, your ferret could lose a toe or develop sores on their feet. Plastic shelves are the easiest to clean and replace if needed. They are also great because you can cover them with fleece for easy and reusable bedding.
Escape Proof
Ferrets can be great escape artists. That is why it is crucial to get a cage that they can't get out of. Your ferret could easily escape out of a damaged cage, or one not built to last. You should look for a cage that has a sturdy metal frame that they can't chew. And your frame should have bars spaced no more than an inch apart. Smaller cheap cages tend to have flimsy wires, so they aren't all made the same way.
Easy Access
And lastly, you want to make sure that your cage has easy access. Getting a cage that you can quickly get in and out will help with cleaning and corraling your ferrets. You don't want to buy a cage and realize that it is hard to clean, move, or take apart. Or, in emergencies, you don't want to have spots of the cage that you can't reach your ferret.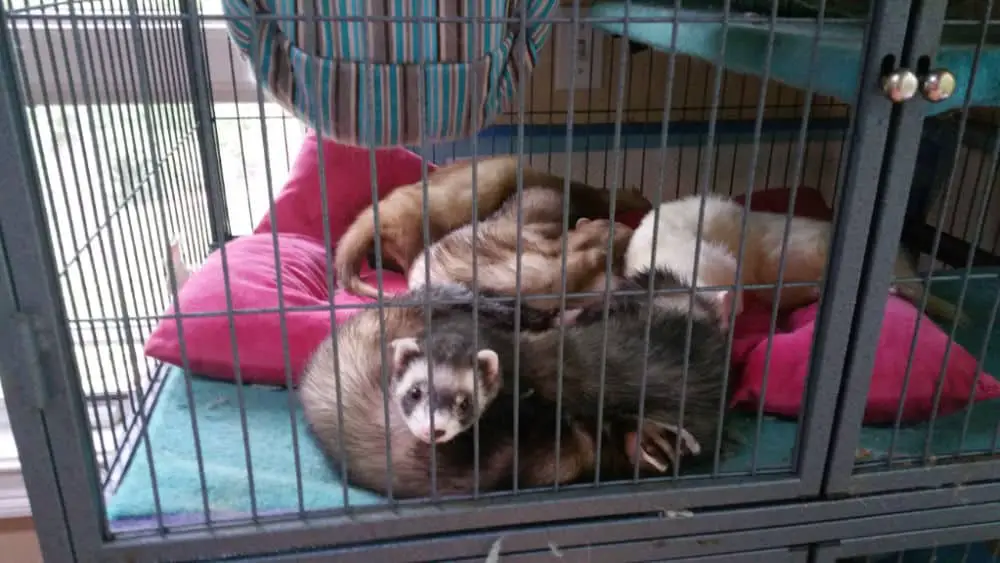 Best Ferret Cages Of 2023
Ok, so now that we know what we are looking for, we can get straight to the best ferret cages from Amazon.
MidWest Homes Ferret Nation
MidWest Homes for Pets 182 Ferret Nation Double Story Unit, 1-Year Manufacturer Warranty
Ferret nation double unit habitat/cage with stand. Ferret nation (182) includes 2 pans, 2 shelves and 3 ramps with ramp covers
Full width double doors on ferret nation cage and removeable shelves provide maximum accessibility for easy cleaning & feeding
Ferret Nation's wide expanse shelf & full width leak proof pan provides maximized play area & prevents dangerous falls
Extremely sturdy & durable metal Ferret cage & stand is easily maneuverable with 4 locking wheel casters
Appropriately angled ramps with reversible happy feet ramp covers specifically designed for ferret safety
One of the most celebrated cages for ferrets is the Ferret Nation. These cages are sturdy and easy to clean. The Ferret Nation is a favorite among ferret owners because it can comfortably house a few ferrets, and you can add to it to accommodate more. There are also thousands of premade fleece covers online to decorate your cage in cute themes. The downside to this cage is that it can be challenging to assemble. But with some help, it shouldn't take too long to assemble.
Pros:
Sturdy and escape-proof
Large enough for two ferrets
Easily modified
Cons:
MidWest Deluxe Critter Nation
Sale
MidWest Homes for Pets Deluxe Critter Nation Double Unit Small Animal Cage (Model 162)
Includes 2 pans, 2 adjustable shelves, 3 plastic ramps with covers & easily maneuverable stand with 4 locking wheel casters
Full-width double doors on critter nation small animal cage and removable shelf provide maximum accessibility for easy cleaning & feeding
Critter Nation's wide expanse shelves & full width leak proof pans provide maximized play area & prevent dangerous falls
Great for Rats, Chinchillas, Dagus, Ferrets, tubing (corners) 0.6 inches square & 1/2 " horizontal wire spacing allow pets to fulfill their instinct to climb & explore in a secure environment
Dimensions: 36" L x 24" W x 63" H
Many ferret owners also love to use the Critter Nation cage. This cage identical to the Ferret Nation, except that the bar spacing is smaller and horizontal. The smaller spacing could be beneficial for people with smaller ferrets and escape artists. The Critter Nation has the same pros and cons that the Farret Nation does. Including that the pans are the same so that you can find pan liners everywhere.
Pros:
Smaller bar spacing
Just like the Ferret Nation
Cons:
Prevue Hendryx Feisty Ferret Cage
Prevue Pet Products 485 Feisty Ferret Home with Stand, Black Hammertone Small
Spacious: This ferret home offers plenty of space for even the most energetic adult ferrets to run, jump, and play. The steel metal cage includes ramps, shelves, and a hammock to keep your fuzzy friend entertained and happy.
Easy Access: Two large doors means easy access to your small pet. The large hinged cage doors are escape-proof and ferrets cannot open the doors. This opening can also be closed off to create two separate spaces or be left open for full cage access.
Easy to Move: Our portable ferret crate with stand features easy-rolling caster wheels to move the ferret cage from room to room. You can store toys, ferret treats, and supplies on the space-saver storage shelf stand.
Easy to Clean: The platforms, grille, and bottom tray are easy to remove for convenient cleaning. Your pet ferret will enjoy a fresh, open metal crate home with this secure animal cage in a stylish hammertone finish.
Dimensions: This ferret small animal enclosed pen measures 31 inches long, 20 inches wide, and 41 ½ inches high (54 inches high on the stand) with ⅞ inch wire spacing. Our ferret pet enclosure is comfy, spacious, and fun.
An excellent option for those who can't afford the Ferret Nation, the Feisty Ferret Cage, is the next best thing. It has a lot of the same great features as the Ferret Nation cage, including being able to modify it. It's excellent for two ferrets and easy to clean. The only downside is that this cage only opens on the right side, so it can be hard to reach some areas.
A lot of ferret owners love this cage. In many ferret groups and blogs, people will talk about the fantastic ways that they have modified these cages. They are great for ferrets who can't free-roam all day.
Pros:
Great FN dupe
Can be modified to make larger
Easy to clean
Cons:
Only two doors instead of four
Ferplast Ferret Tower
Ferplast Ferret Tower Two-Story Ferret Cage | XXL| Measures 29.5L x 31.5W x 63.4H - Inches
Huge & Healthy Living Space! | Provide your ferret with the room they need to roam & play for endless exploration | Each XXL ferret cage measures 29.5L x 31.5W x 63.4H inches & weighs 52 lbs., bar spacing is 7L x .5H inches
Fully Accessorized Ferret Cage | Two-story ferret cage includes everything you need to get started including a large water bottle, litter pan, food dish, 2 adjustable play tubes, 2 ramps, 3 adjustable platforms & a fun hanging hammock perfect for a cozy nap after playtime
Easy Access & Maintenance | Ferret cage features a door on each level plus a "roof-top" door for convenient access, two 6-inch deep pans keep litter & debris inside the ferret cage. To empty or clean the pans simply unlatch the wire portion of the cage
Quick Set-up Ferret Cage | Unique latching system that connects the metal mesh portions of the cage to the base pans allows for quick set-up or ability to take a part for storage or routine cleaning
Optional Wheel Casters | This ferret cage includes 4-wheel casters so you can easily relocate the ferret cage for cleaning & etc.
Next on our best ferret cages list is the Ferret Tower. This cage has deep pans that you can use bedding or a fitted fleece pad at the bottom. The Ferret Tower is also a lot larger than it seems. It is spacious enough for two ferrets, and you can customize it on the inside. The Ferret Tower is also great for ferrets that are having a hard time litter training, as all of the urine stays inside the cage. There aren't too many cons to this cage except that this cage is also tricky to put together. But it is worth the money and is built to last.
Pros:
Deep enough for bedding
Easy to clean
Can customize and modify if needed
Cons:
Difficult to put together
Prevue Deluxe Critter Cage
Prevue Pet Products Deluxe Critter Cage 484B, Black
Designed to home a wide variety of small animals
Heavy duty, metal construction
5 shelves, 3 ramps and 1 hammock included
2 large entry doors with easy to use locking mechanism
37'' L x 23 1/8'' W x 63 3/8'' H with 7/16'' wire Spacing
The Prevue Deluxe Critter Cage is an excellent option for ferrets who escape a lot. This cage has smaller spaced bars so that not even the smallest ferrets can escape. The Deluxe Critter Cage is spacious enough for two ferrets and easily cleaned. Customers rave about how easy it was to put together and what excellent quality it is. You could also easily customize this cage to make it a fun habitat for your ferrets.
Pros:
Escape proof
Large enough for two
Easy to clean
Easy to put together
Customizable
Cons:
The pans can be difficult to remove
Yaheetech 52-inch Metal Ferret Cage
Yaheetech 52-inch Ferret Cage 6 Level Metal Rat Cage with 3 Front Doors/Feeder/Wheels Small Animal Cage for Ferret/Chinchilla/Bunny/Rabbit/Squirrel, Black
【DURABLE & STURDY】This cage is constructed of powder coated metal square tubes and wires; safe hammertone paint gives this stylish cage excellent wear and corrosion resistance; features 4 heavy-duty casters at the bottom ensure high load capacity.
【EXTRA LARGE EXERCISE PLACE】25.2 x 17.2 x 52'' large pet chinchillas cage with 0.9'' bar spacing allows several small animals to have fun at the same time; six tiers are connected with ramps, which expand the usable area for pets to climb and rest; perfect for adult small pets like guinea pigs, squirrels, chinchillas, ferrets, rabbits, hedgehogs, etc.
【SAFE & SECURE】All three arched doors are secured with latches, keeping your pets safe in the cage when you are not around; arc designed ramp with embossed stripes for safety purpose, which can increase the friction and prevent your pets from slipping during their climbing; smooth seams and rounded corners protect your pets and yourself from undesired injury
【EASY CLEANING】3-Door design makes it easy to clean the cage and tiers with tools; a slide-out tray under the cage can be removed and cleaned with water; a metal mesh between pets and the tray can avoid your pets walking/laying directly on their droppings
【CONVENIENT MOVING】4 Smooth rolling casters can be rotated in all directions for convenient moving; This squirrels cage comes with a complimentary wall-mounted water bottle and a pet bowl.
The Yaheetech is a suitable cage for the price. If you only have one ferret, this cage is perfect for you. It is easy to assemble, and people rave that it is very well made. There isn't much room to do too much customizing, but you could rig up some homemade shelves that would better suit you. Another downside to this cage is that it can be hard to clean since the sides don't open up like previous cages mentioned.
Pros:
Taller cage than some
Easy to put together
Cons:
Harder to clean
Not large enough for two
Can't customize easily
Kaytee My First Home Deluxe
Sale
For a good starter cage, the Kaytee First Home Deluxe is a great choice. This cage is ideal for baby ferrets that need to adjust to their new lives. But it shouldn't be used long term as it's not large enough for a full-grown ferret. This cage is easy to clean and comes with lots of shelves and a place for bedding. The downside to this cage is that ferrets have been known to chew through the cage. It also isn't built to last, so you will need to have another cage before your ferret gets too old.
Pros:
Great starter for young ferrets
Easily cleaned
Cons:
Ferrets can chew through it
Not sturdy enough for long term
Not large enough for a full-grown ferret
PawHut 6-Level Cage
PawHut 60" Small Animal Cage with Wheels, 6-Level Portable Bunny Cage, Chinchilla Ferret Cage with Removable Tray, Platforms and Ramps, Black
Widespread Animal Accommodation: This small pet cage allows a wide possibility for pets it can house, accommodating a wide range from ferrets, to bunnies, to chinchillas and more.
User-friendly Design: The large inner space features a platform with an anti-slip ramp and two openings, on the top and the front, for easy access to your pet.
Easy Rolling Wheels: The small animal shelter includes 4 omnidirectional wheels,2 with brakes for easy movement and transport around your home or yard.
Easy to Clean: A removable tray is included for quick cleaning allowing you to maintain a healthy environment for your pet.
Chinchilla Cage Info: Overall Dimensions: 32"L x 20.75" W x 59.75''H. Bar Spacing: 0.95''. Assembly required.
The last of the best ferret cages 2023 is the PawHut 6-Level Cage. This cage is tall and wide, which is excellent for multiple ferrets. And since this door has four doors, it makes it easier to clean than most. When added with a slide-out tray, nothing is easier to clean. It is a well-built cage that will last for many years. And it has a deep base for litter and bedding to keep your ferrets comfortable.
Pros:
Can house multiple ferrets
Easy access and cleaning
Durable
Deep base for bedding
Cons:
Ferrets can easily remove the stairs. And they love doing that.
For more supplies for your new ferret be sure to check our recommended pet supplies page to see what items we think are great for your ferret.
What Cage Will You Choose?
It can be hard to find the perfect cage. But hopefully, we found some of the best ferret cages out there. Did you find your ferret cage on our best ferret cages 2023 list?