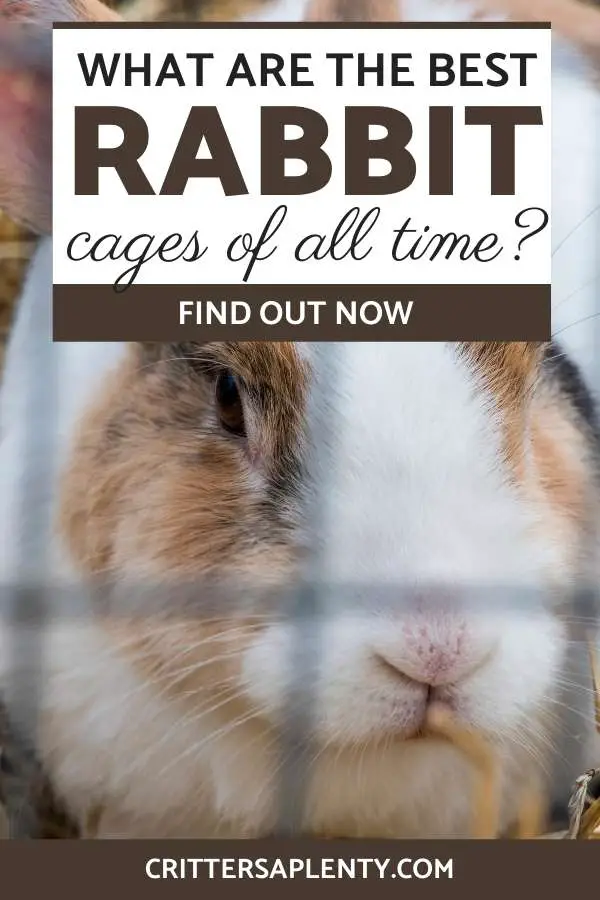 If you are reading this, you are probably about to embark on rabbit ownership. You are learning all you can and are trying to find the perfect cage for your bunny. Lucky for you, we have done all the hard research for you. We are going to tell you all about what to look for in the best rabbit cages for indoor and outdoor use. And we have put together a short list of the perfect cages for you.
What To Look For In A Cage
The best rabbit cages of 2023 have to meet all of our requirements to make the list. People have kept rabbits domesticated for centuries. But it hasn't been until recently that we have acquired the knowledge of what makes them happy. Surviving and thriving are two different things, and we want our pet bunnies to thrive. So, listed below are all the things you should look for in the best cages for you.
Size Requirements
The first thing to consider is the cage size. Rabbits can get rather large and need ample room to hop about. But rabbits come in all different sizes, so how do you know what size is best for your rabbit? The general rule is to have a cage four times longer than your rabbit when it is fully grown. This is enough room to allow your rabbit to hop a few times in each direction. If you have a smaller dwarf rabbit, you don't need as large of a cage. But for giant breeds, you will need the largest you can get.
Another more solid number to go by is at least 12 square feet of space. This amount of space will allow your rabbit to have a designated kitchen, bed, and bathroom. No animal likes to do all three in the same area.
Whatever cage you decide on, it also needs to be 2 feet tall to allow for stretching. Rabbits will periodically stand up on their back legs to stretch their spines and to take a look around. Without the ability to stretch, your rabbit could develop arthritis and a hunched back. But there is no such thing as too large of a cage. Bigger is always better.
Solid Flooring
You will also want to have a cage with solid floors. Plastic flooring is the most common to use because it is easy to clean and replace. Most outdoor hutches are made from solid wood, but you can get plastic liners if you wanted to. The only flooring you should stay away from is wire. Wire is uncomfortable for your rabbit and can cause sores. Rabbits have even been known to get their toes or legs caught on the wire floors. Getting caught can lead to infection or even amputation.
Bedding Compatible
Another thing to look for is if the cage is compatible with the type of bedding you wish to use. Whether you are going for a paper bedding or fleece, you will need a pen that can be adaptable for it.
Easy To Clean
As a rabbit owner, you will find that most of your free time is now consumed by cleaning. To make this process easier, you will want a cage that you can get into with ease. Enclosures that have tops that come off or have no tops are simple to clean.
Predator-Proof
And if you will have an outdoor hutch, you will need to make sure that it is entirely predator-proof. Nothing should be able to get inside from under, over, or between the ventilation. Animals like raccoons and snakes can get inside of almost anything if it's not protected enough.
Being predator-proof can also be vital if you have other animals. Cats, dogs, and ferrets can all prey on rabbits, so you want to make sure that their cages are secure. Pens with sturdy sides and locking mechanisms are the best protection against other household pets.
Best Rabbit Cages Indoor
Our first part of the best rabbit cages 2023 are for indoor use. These cages are vetted by rabbit owners from all over the country, and they have the best reviews. You might be shocked to realize that some of these cages are meant for rabbits at all. But trust us, these modified versions will make your rabbits the happiest bunnies around.
Petmate 8-Panel Wire Dog Exercise Pen
One of the best investments for owners with multiple rabbits are these wire paneled dog pens. They are reliable and the perfect size for any rabbit. If you have numerous rabbits, you can connect more of them to make as large of a cage that you need. Rabbit owners everywhere swear that x-pens are the easiest and best cages for rabbits. Even if you don't use this as your only cage, you can attach it to any cage you want to create a larger exercise area.
Pros
Can make them larger
Strong and durable
Cheaper than traditional cages
Cons
You will need to buy something to protect the floor underneath
Ferplast Krolik 160 Rabbit Cage
For smaller dwarf rabbits, this Ferplast Krolik 160 cage is perfect. It is easily collapsable and cleaned with ease. This cage is one of the best traditional rabbit cages on the market. It's larger than most cages, so you won't have to worry about your rabbit becoming too cramped. There is plenty of room for your rabbit to be happy with lots of outside exercise as well.
Pros
Easy to clean
Great for small rabbits
Best size for a traditional style cage
Cons
Not ideal for more than one rabbit
Only suitable for smaller dwarf rabbits
Tespo Pet Playpen
Pros
Great for multiple rabbits
Can make them into any design you want
Easy to build
Cheap to use
Cons
You will need to find a bottom for the cage
SONGMICS Small Animal Cage
Pros
Comes with a floor liner
Easy to customize
Cons
You will need two cages for one rabbit
SONGMICS Pet Playpen
Pros
Very spacious
Can be modified to your needs
Cons
Will need a liner purchased separately
The wire shelves will need coverings with either plastic or wood.
Aivituvin Upgrade Rabbit Hutch
Pros
Wheels for easy maneuvering
Pull-out tray for cleaning
Great size for a rabbit of any size
Cons
Can't customize the size
Rabbits like to chew the wood
Advantek The White Picket Fence Rabbit Hutch
Pros
Indoor/ outdoor use
Great size
Easy to clean
Cons
No large enough for multiple rabbits
Can't be expanded
Tespo Crate Pen
Pros
Breathable
Customizable
Great cage for multiple rabbits
Cons
You will need a waterproof liner for this cage as well
Where Do You Buy Waterproof Liners?
Most of these DIY cages don't have bottoms in them. You may be wondering how to do this? Well, the simplest way to do this is by buying coroplast sheets at your local Home Depot or other home improvement retailer to fit your cage and using a fleece pad over the tops. Coroplast will give you a waterproof barrier between the cage and floor, and the fleece will be absorbent to prevent accidents.
Did You Find The Cage For You?
Choosing the best rabbit cages of 2020 can be nerve-wracking. But with these cages above, you can make the most Instagram ready rabbit bungalow in no time. Adding a few personal touches can help a cage feel like home. Can you envision your ideal enclosure now?